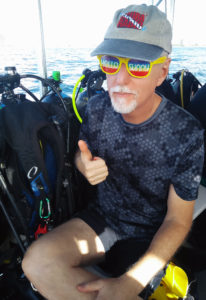 Greg The Divemaster is your host and dive guide for ScubaRadio…The world first radio show devoted to diving!
His radio career began on the air in Cincinnati back in the 80s. (Insert WKRP TV theme here)
Throughout his career he worked in rock, pop, country, and talk radio on stations from Ohio to Florida and has pretty much done it all in the radio world.
In March of 1997 he created and began hosting ScubaRadio while managing a sports station in Orlando. This unique new talk show was literally started as an excuse to dive free on company time. (Read the back story here) However, it quickly took off and within a couple years evolved into Greg's full time job.
Yes, this is one lucky SOB!
Greg launched the World of Boating radio show in 2005 and Just Plane Radio in 2011. It's a Jimmy Buffett lifestyle he strives to live and share on-the-air every week. Feel free to hate him like we all do and know he considers that a badge of success. 😉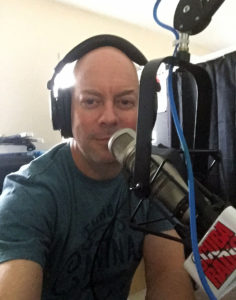 CJ has been a regular on ScubaRadio ever since Greg The Divemaster certified him to dive. (Damn him!) With his sense of humor being somewhat twisted and borderline disturbing, it is CJ who is to blame for the colorful commentary of ScubaRadio's Drunken Sailor! We will never be able to apologize enough.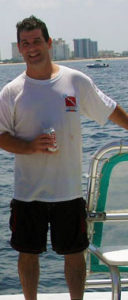 Jimmy – "Bubble Boy." Sure he blows bubbles….but out of both ends? That's the kind of talent you'll only get on ScubaRadio!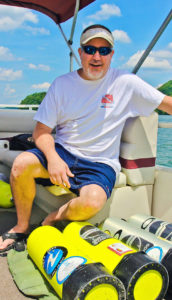 Jerry -The Diver Guy has many diving talents and an accent that only someone high in the hills of Virginia can possess. He owns and operates Mountain Divers and has found many intoxicating ways to take advantage of that mountain spring water beyond the sport of diving. If Jerry offers you a drink, know it will get you there quicker!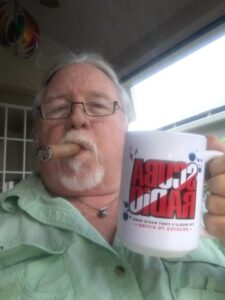 Casey the Tobacco nut. Been diving since 1982 all over Mexico, Baja up the coast to Washington, and throughout the Caribbean. Casey was one of the first divers to join Greg on this ScubaRadio adventure and after all these years, is still sucking on-air!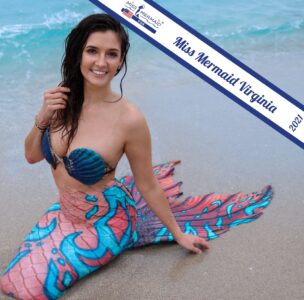 Mermaid Kristin is a diver, model, and mermaid pageant winner to boot. She has been major upgrade to the ScubaRadio ScubaSquad!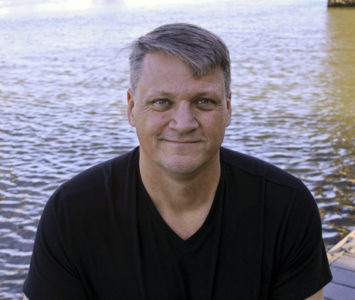 Eric Douglas, the author extraordinaire, has been a friend of ScubaRadio since the early days – and has stories he will only tell under duress. Or, if someone buys him an adult beverage. Eric writes about diving, talking both about safety and adventure. He has a series of adventure novels that we love and the ScubaRadio crew shows up in two of his books: Lyin' Fish and Turks and Chaos.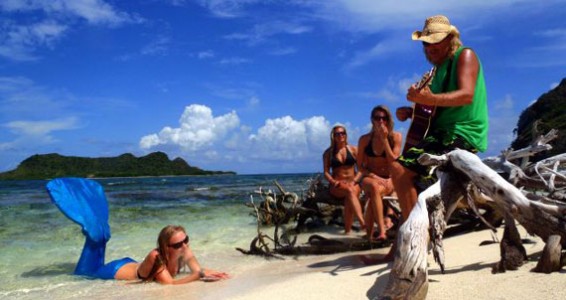 The Scuba Cowboy is the traveling minstrel that joins Greg The Divemaster on many of his dive travels and often appears on ScubaRadio as a result. Check out his SCUBAribbean style of tropical tunes at www.thescubacowboy.com.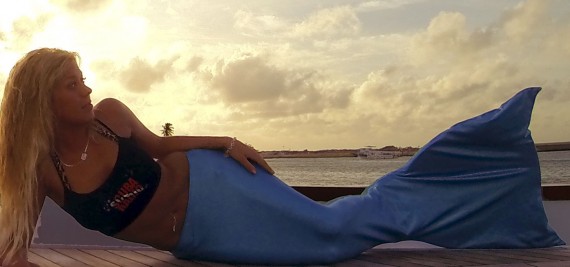 Mermaid Tiffany has diving in her blood (just ask her dad, the Scuba Cowboy)…and is living proof that blonds have more fun with ScubaRadio!