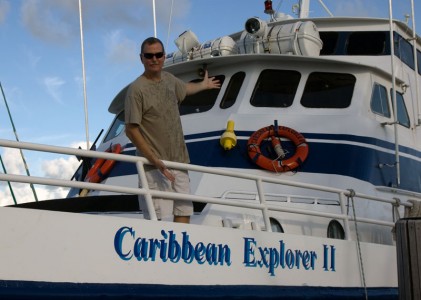 Our ScubaRadio ScubaCruises just keep getting bigger and better! So join us January 18-25, 2014 with Explorer Ventures as we dive their Northeastern Caribbean itinerary on board the Caribbean Explorer 2 liveaboard.
On board for this adventure will be photo pros Barry and Ruth Guimbellot, who specialize in shooting those unique front and reverse angle cover photos for Dive Training magazine. They are some of the most respected photographers in the biz and love sharing their photo tips and tricks of the trade. Plus you will get a behind the scenes look at what goes into shooting one of these unique Dive Training covers as they attempt to shoot one while on board! Having Barry and Ruth judge a friendly front and reverse angle photo contest among the passengers is rumored to be part of the festivities as well.

ScubaPro dive equipment will be featured on board this week and possibly even sent home with a few lucky ScubaRadio ScubaCruisers!
The Scuba Cowboy will provide live music flanked by one of our ScubaRadio Mermaids and of course, we will originate a ScubaRadio broadcast live from the deck of Caribbean Explorer 2 that week to rub it in to all the poor saps back home….You do not one to be one of those people.
This is truly above and beyond what you would get on a typical week on board the Caribbean Explorer 2, which is an amazing dive adventure on its own, so don't miss this opportunity to experience something truly unique…and at no extra cost! Space is limited, so call Explorer Ventures now 1-800-322-3577.