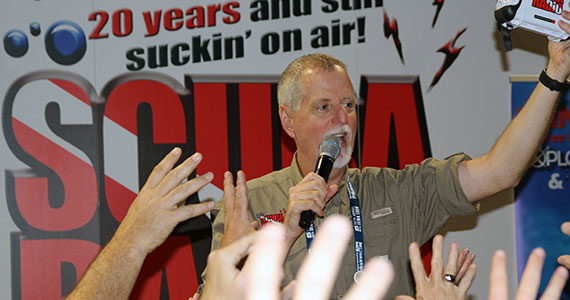 This is a very special DEMA show this year in Orlando November 1-4 as ScubaRadio celebrates 20 years and still suckin' on-air!
Join Greg The Divemaster and friends at the DEMA show entrance around 9:30 each morning. The music, games and giveaways will continue up to opening of the DEMA exhibit show floor at 10.
This will likely be one of the most memorable highlights from DEMA 2017 and appropriate for ScubaRadio's 20 year anniversary celebration! So don't be late….and we apologize in advance. 😉
ScubaRadio sponsors are being extra generous this year. Expect free liveaboard trips with Explorer Ventures, exotic dive packages, cool dive gear, and much more to be up for grabs!
Cap off each DEMA day at 4pm in the Bahamas isle with the ScubaRadio-Bahamas Junkanoo Happy Hour party! Even more big trip giveaways and rumors of Free Rum Punch circulate for this annual event. So we highly suggest you be in the Bahamas isle by 4pm if you find yourself a bit thirsty at the end of the day.