Greg The Divemaster has always noodled on a guitar over the years. He loves to join his musician friends like the Scuba Cowboy when an extra 6-string is available and strum away those long surface intervals when traveling around the world for ScubaRadio. However, the size and weight of bringing along an extra guitar is difficult to justify. Plus the salty deck of a boat or the humidity surrounding many of these exotic dive destinations can easily damage a quality instrument.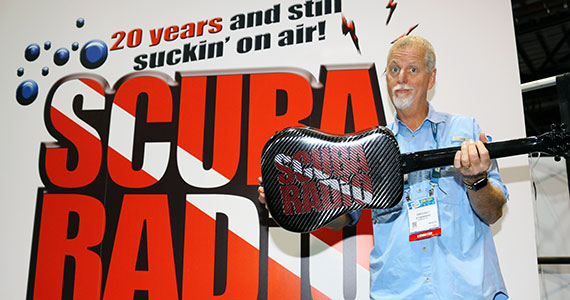 A solution finally came when Greg stumbled across KLOS guitars on Kickstarter a few months back. This lightweight, portable and almost indestructible carbon fiber guitar appeared to be a cool and unique new option for someone like Greg or anyone else who likes to travel with a nice guitar. After reaching out directly to KLOS, he was sold and commissioned the first ScubaRadio logo'd carbon fiber guitar ever made. (Actually, it's one of the first KLOS guitars to ever have a carbon fiber logo period!)
The result debuted at DEMA 2017 as seen below and will now travel with Greg around the world on his ScubaRadio diving adventures! Check out KLOS guitars and know Greg The Divemaster gives them 2 big fins up!…with or without the logo. 😉
Check out HOUR1 of the 11-11-17 edition of ScubaRadio to hear Greg talk more about the new ScubaRadio KLOS guitar.
[AFG_gallery id='17']